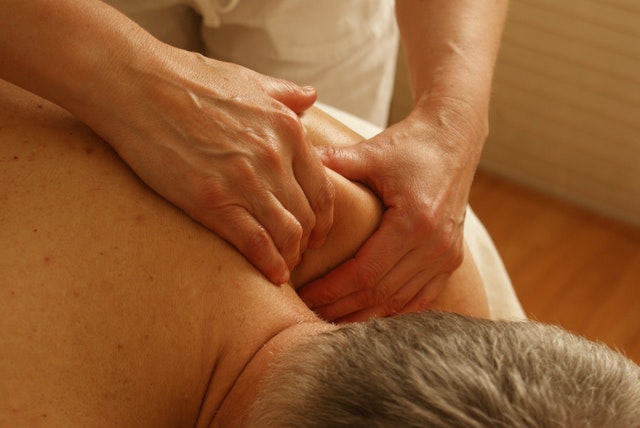 Although exercising regularly is great for mind and body, our muscles sometimes complain, leaving us to feeling sore and tight for days.
On the other hand, when we're inactive, dehydrated or just plain worn out, knots can form in our neck and back muscles which can be painful and limit movement even further.
While massage is an excellent way to relieve these common aches and pains, occasionally those "knots" require a little deeper attention. If that's the case for you, myofascial release might be the answer.
What is myofascial release?
The myofascial release method focuses on relieving tension in and around the thin, tough layer of tissue which encapsulates muscles. If you've ever wondered what that clear, tough membrane around the meat of a chicken leg is – that's fascia.
In fact, the word "myofascial" actually refers to the area often causing us the most trouble when it comes to those "knots" we feel. "Myo" means muscle, and "fascia" describes the encasing around those muscles.
With myofascial release, the therapist focuses on releasing areas where previously injured or stressed muscles are bound by fascia that has connected itself to the softer tissue of the muscle, often resulting in a reduced range of motion and pain.
How does it work?
Myofascial release therapy is a technique which utilizes  pressure applied to th muscle and fascia that can reduce tension and increase blood flow.
Using long strokes across the muscle fibers, this technique helps break up knots and restore the body's natural functions.
Myofascial release can also include the use of tools on the fascia in an effort to get them to "release" and alleviate pain, according to Dr. Garry Ho, director of Virginia Commonwealth University's sports medicine fellowship program. Hos says the Ming Method, Graston Technique, Melt Method, Active Release Technique and Rolfing are all proprietary varieties of myofascial release.
Using props like foam rollers and tennis balls at home are DIY methods of applying myofascial release to your muscles.
Who can it help?
Myofascial release has helped people all the way from elite-level athletes to people simply experiencing pain from daily activities as well as those who are experiencing chronic pain from conditions such as carpal tunnel syndrome, Temporo-Mandibular Joint disorder, possibly fibromyalgia or even migraine headaches.
Many people seek myofascial treatment after losing flexibility or function following an injury or when experiencing ongoing pain in their back, shoulder, hip, or virtually any area containing soft tissue.
Although scientific studies have not proven the benefits of myofascial release, many people who have experienced it, have found profound levels of relief.
In fact, U.S. News & World Report recently shared the story of Debra Firestone a woman who,with little success, had sought help from neurosurgeons and primary care doctors for relief of her neck pain whichaffected her vision and balance. At her husband's insistence, Firestone saw an MRT specialist who discovered a knot of fascia at the base of her skull, which he believed was interrupting both blood flow and nerve signals between her brain and the rest of her body.
Firestone says she can now turn her head without feeling like she will pass out and can walker straighter than she has in years. "I'm back to being my normal self."
While Myofasical release therapy may, or may not be, right for everyone the key element to takeaway is the importance of finding the right type of massage for your individual needs (which, keep in mind can change over time). Going a step further it is equally as important to educate yourself on the different types of massage, such as Myofasical release therapy, so that you are better equipped to make the decision of the type of massage therapy, or therapist is right for you.
Ready to take the next step and find a massage therapist near you? Check out the MassageBook directory where you will be able to sort therapists based on technique, location reviews and more!