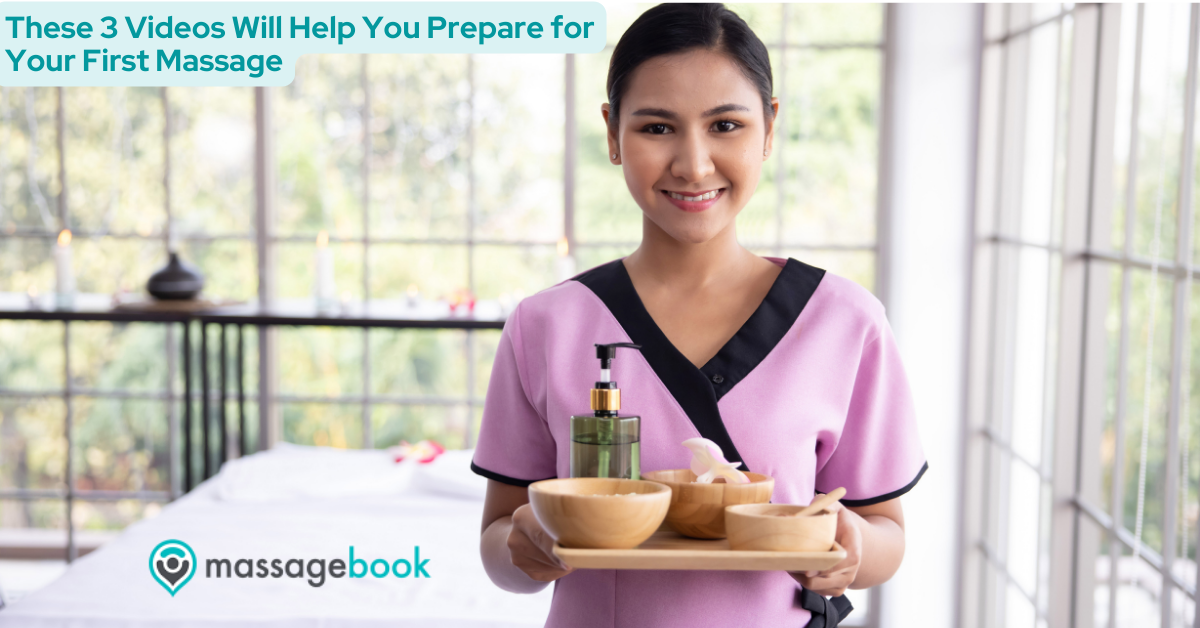 The idea of getting your first massage is great: relaxing, unwinding, and relieving tense muscles. But many people report an unexpected emotion when they arrive for their first massage: anxiety. And while this may be surprising, it isn't uncommon. Many first-timers feel an unexpected case of nerves come on when they first arrive.
This anxiety can unsettle your massage therapist and result in an unpleasant time. While your first massage can make you feel apprehensive and even jittery, being prepared can help you settle your nerves. Understanding the process and setting realistic expectations can help you stay calm and reduce any unwanted pressure on your therapist.
Doing some research beforehand, including learning more about massage techniques used to treat your specific condition, will help reduce the risk of surprises and better prepare you for your first massage.
The key is to feel confident because feeling sure about your upcoming session will make for a more positive experience. So if you're considering booking your first massage, get prepared by watching the videos below.
What to Expect for Your First Massage
In this video, YouTuber HM Massage explains why some people feel uneasy about massage therapy: You're meeting a stranger for the first time and undressing. Who wouldn't have a slight case of nerves? This experience can be nerve-racking, so he walks viewers through what they can expect during a massage.
Your average massage will consist of an intake, the actual session, which is usually one hour, and then about five minutes after to get dressed and provide additional feedback. It's important to tell your massage therapist what felt good and what didn't because they can use this information to enhance your next session.
The YouTuber also mentions that you don't need to undress fully. Instead, undress to your comfort level. Keeping undergarments on isn't uncommon, and professional massage therapists know to ensure the parts of your body they aren't working on are well covered with a proper drape.
Communication is the best way to stay comfortable during a massage. Remember that you are in charge of your comfort and satisfaction levels. Speak up if you ever feel too exposed or too hot or cold. Don't forget that it's supposed to be a relaxing and enjoyable experience.
The YouTuber also points out that massage can be a valuable tool for dealing with pain, injuries, and soreness. Massage releases endorphins in the body, and many people who start getting massages regularly often become addicted to this rush. So while getting a massage for the first time might feel new and different, there are significant health benefits to keep you coming back for more. Your therapist will likely inform you that your first experience will differ from follow-up sessions but that you will find yourself returning with a better perspective each time.
Getting My First Massage at 30
This is another great video to watch in preparation for your first massage because it explores another person's thoughts before getting their first massage. YouTuber Vanessa is anxious and doesn't want to get a massage even though she's in pain and seeking relief.
First, she describes the constant tension in her shoulders, and then she's joined by a massage therapist named John, who starts by offering tips for first-timers. John recommends finding a reputable, trustworthy provider with great reviews and selecting a 60-minute appointment to ensure the massage is long enough to be effective but not so long that it causes excessive soreness.
Vanessa is anxious to get the session over with, so next, they go inside and begin the massage. She tells John that her neck and back are bothering her, and then he asks her a few questions before performing a massage to alleviate the tension. John goes on to demonstrate massage techniques that will help Vanessa, and she is surprised when they start to relieve her pain.
Vanessa mentions that she felt uncomfortable getting a massage in the past because she always thought of it as a luxury. But John tells her that caring for one's body is not a luxury; it's a necessity like eating right, exercising, and stretching. He encourages her to enjoy the experience and focus on pain relief. John also mentions that those who travel a lot, work at a desk, or suffer from tension will benefit from massage at least twice per month. Between massages, he recommends eating as healthy as possible and doing breathwork that involves breathing in and out deeply.
Overall, this video is worth watching because it demonstrates that all people can benefit from massage, even though some are less comfortable with the process. However, with some education and the proper massage techniques, people can ease into the process, especially if they achieve the pain relief they are in search of.
Understanding Massage Techniques
Massage therapist Kristin leads this video and discusses two massage techniques most commonly requested by clients: Swedish and deep tissue. Both massage techniques are beneficial depending on your preferences and your symptoms.
Swedish massage can reduce pain and inflammation, release endorphins, and make one feel calm and relaxed. Swedish massage is also known as a classic massage. Swedish massage traditionally focuses on the lower back, shoulders, and neck. During a Swedish massage, therapists typically use long strokes, circular movements, and passive joint movements.
Deep tissue massage is more intense. It's typically used on athletes, runners, and people with injuries. It's also very popular if you suffer from pain conditions like fibromyalgia. Deep tissue uses many of the same motions and techniques as a Swedish massage, but the pressure is far more intense.
It's important to note that deep tissue massage doesn't have to be full-body. So, for example, if someone comes in for a massage and wants a Swedish massage but has deep areas of tension in their lower back, the therapist may recommend a deep tissue massage for that one area only.
As a first-time client, you may feel confused about different massage techniques. By explaining your concerns and symptoms to your therapist, they can best advise on what is suitable. Here, they will break down the differences and give you the assurance you need to feel more comfortable. Massage therapy is more effective when you and your therapist have an open communication line.
Tips to Help You Have a Great First Massage
Here are more helpful tips that will prepare you for your first massage:
Ask for a relaxing environment. Although your therapist will set up a comfortable atmosphere, you can ask for things such as dimmer lights or subtle scents using aromatherapy.
Be as honest as possible. Your therapist will ask how you're feeling and if you're enjoying the pressure. They're genuinely interested in your feedback, so be truthful.
Inform your therapist of your preferences. Are you enjoying the music that is playing? Is the scent of any products being used overly strong?
Don't shy away from being specific. Giving your therapist the most information about your tension, pain, and health condition can accurately pinpoint which areas need attention.
Try to stay calm. As a first-timer, you will need to remind yourself to remain calm. Remember, you are with a professional massage therapist dedicated to providing pain relief. Your nervousness may unsettle your therapist and lead to an awkward time.
Provide useful feedback. Regardless of your misconceptions and thoughts before and during your session, it's essential that you provide helpful feedback to the therapist. These details will benefit you during the current session, and each time you come back in the future.
Find and Book Your First Massage on MassageBook
Are you ready to book your first massage?
MassageBook makes it easy to find and book the best massage therapists across the United States and Canada. In a matter of minutes, you can find a highly rated professional in your area who will help you get back to feeling your best.