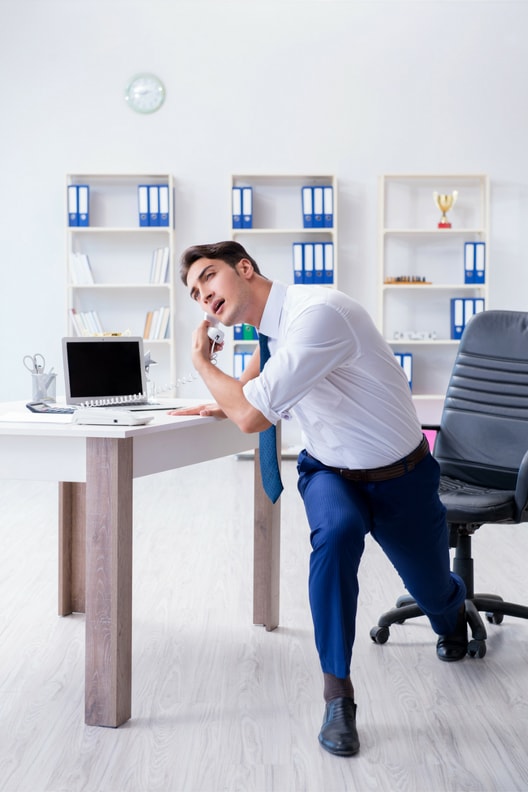 Sitting disease (is there such a thing?)
The modern work day is an average of nine hours a day, and a large portion of the work required is still primarily done sitting at a desk (or possibly coffeehouse table) – which means Americans are literally in danger of too much sitting.
The Mayo Clinic highlights studies reporting that risks associated with sitting include increased blood pressure, high blood sugar, excess body fat around the waist and abnormal cholesterol levels. It doesn't take a brain surgeon to realize that these problems could certainly affect day-to-day productivity but will most definitely affect long-term health, which will mean more days away from the office due to illness and medical issues.
And other research tells us that this much sitting during a work day is also not as productive. In fact, regular breaks (and even a nap!) can help creativity and therefore improve productivity.
So if a little movement at work is good for our health – and good for our workplace productivity – this is a true "no-brainer."
But your boss might not be as convinced (though we certainly recommend you trying to convince her or him that company-sponsored walks – or possibly some yoga, maybe even frisbee outside? – would be outstanding ideas) so we have some things you can easily do on your own or easily show your boss/coworkers how a little mild movement is good for everybody.
STRETCH AT YOUR DESK
Your coworkers will not mind you stretching as long as you're quiet and respectful of their personal space. And don't feel self conscious but instead invite your colleagues to join in. Even if initially hesitant, they were likely waiting for the invitation.
Here are three of the most important body parts to give a little attention to throughout the day and some easy stretches to do anytime, anywhere. Just take care to always stretch properly and stop if you feel sharp pains while gently tugging on your muscles.
Improve arm agility
If you spend much of your work day typing, it is important to move your entire arm every now and then to maintain flexibility and give your forearms a break. These stretches can be done while seated, but it will be even better if you can stand and do them.
Stretch your arms up into the air for a few seconds and feel your shoulders stretch. Then, while maintaining the stretch, take your right and clasp your left, then pull slightly to the side, getting a full stretch on the left side of the body and hold for 10-15 seconds. Then switch and do the same movement on the other side. You can modify this slightly by bending the elbow of the stretching arm to get a little more stretch on your triceps. By moving your arms in ways that you normally do not when seated and typing, you increase blood flow and help your flexibility.
It's also a great idea to remove your fingers from the keyboard for a moment and perform some simple hand stretches.
Take care of your legs
Even if you don't have time or room to really move your legs too often, you can definitely stretch them, even while at your desk with these  seated leg stretches.
At the very least, simply extend your legs every now and then while sitting to stretch your hamstrings and avoid sitting cross-legged all day (which torques your back, puts pressure on your pelvis and isn't too great for your knee). Also, bringing one knee up at a time to your chest for a leg and pelvis stretch always feels good.
Whenever you go for walk to the restroom or during a short break, make sure to do some easy leg stretches – such as touching your toes or a calf stretch against the wall. And if you're feeling really ambitious, make that walk to get some water a string of deep lunges (your coworkers may wonder what you're doing, but we bet they'll start lunging down the hallways too!)
Remove tension from your neck
When we have tension in our bodies, it is very commonly found in our necks and shoulders.
Relieve some of that pent-up stress by working several neck and shoulder stretches into your daily routine.
Even just a gentle roll of the head can do wonders for the neck pain caused by constantly viewing screens.
GET YOUR BLOOD PUMPING!
We know you have a lot of work to do, and you may have multiple deadlines crashing in at once. All the more reason to move those muscles once in a while so they can operate at peak performance!
But seriously, breaking up your long bouts of typing, answering the phones, reading reports, sending emails, etc., with some movement will help your body withstand the "sitting and working" mode much better – and as noted, will actually improve your creativity and efficiency while working.
The obvious fixes
Take a walk to the water cooler every hour (staying hydrated is also a great idea, so this hits two goals at once!) And a little more water will mean a few more necessary bathroom breaks, which will lead to more walking, which…well, you get the idea.
Offer to pick up mail for your office mates and maybe even go "the long way" around the office just to get in a little more cardio or a few more steps on your Fitbit.
Eat your lunch outside or at least in a break room and not at your desk – and make the second half of your lunch break a brisk walk for 10-15 minutes. The small break with a little fresh air will help your body as well as your soul.
Take the stairs when you can and park far away from work as motivation to walk more.
Some more creative ideas
While short but frequent breaks can do wonders during a long day (and beat sitting for 8 hours any day of the week),  a little more "planned activity" once a day at the office is a superb idea – especially if it can include your coworkers.
As noted earlier, this may take some convincing in your workplace, but show your boss the research about increased productivity, and we think you'll have an easier time. The activities can be as easy as a daily 15-minute walk, 10-minute meditation or a few minutes of Cornhole. Or they can be as organized as a daily yoga session or a noon game of kickball each day.
After all, we can't all work at Google and take an hour break on the climbing wall before sipping our Pina Kale-ada smoothie – but we can all have a little fun during the work day and get our heart rate pumping at the same time.
And of course we would be remiss not to mention that scheduling regular massages will also go a long way in helping our bodies recover from long work days of sitting.