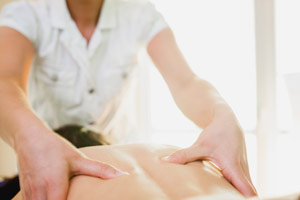 Massage therapy is all the rage, and you know all the cool kids are doing it.
But if you haven't had one before – or have done little more than your "spa visit while on vacation" massage – then finding a regular massage therapist can be a little overwhelming.
The first step is knowing what to expect from a regular massage therapy session.
The second is searching for the right massage therapist to fulfill your health needs and get the most out of your massage.
While there's certainly nothing wrong with going with whichever random therapist happens to be on deck at your local massage therapy chain, finding a trusted therapist whose specialty can really address your specific needs will be a far more satisfying and healing experience.
Lucky for you, finding that trusted therapist is our specialty, so here are a few tips to getting the perfect massage (and massage therapist) to fit your needs.
Because choosing the right technique and therapist for you often go hand in hand (pun totally intended).
Choose your own adventure
Before choosing a therapist, knowing what kind of massage you are looking for is helpful.
There are many types of massage therapy designed to provide different types of relief – whether it's for minor relaxation or deep tissue work.
Take a look to determine which types of massages interest you, and look for therapists trained in those methods.
Your massage therapist can also be a great resource for recommending certain massage therapy techniques, depending on your lifestyle and current health.
Trial by error
The best way to figure out which type of massage you like is by trying various techniques and remembering which ones you prefer.
If a deep tissue massage leaves you too sore, try Swedish or Ashiatsu techniques next time. If the Swedish was comfortable but didn't go deep enough to soothe chronic areas of pain, then trying a deep tissue or even hot stone massage is probably a good move.
This is where MassageBook can be your best friend – you can search for your massage by the business, an individual therapist and even by technique. Check local reviews and make sure prices fit your budget as you consider the massage therapy studios to visit. And definitely look at bios of the local massage therapists to make sure they are licensed as well as to read about their training and specialties to determine who may best fit your needs.
Chat it up
Even after you've made some initial decisions through your online search, it's important to think about what you want from the experience in advance.  
Don;t be shy – do let the massage therapist know on your visit. The fact is that massage professionals wish they received more information and feedback from their clients. The more they know, the better they can tailor their work to fit each person's unique needs (and likes).
A good massage therapist will be receptive to your requests and can provide some guidance as to the best massage techniques for your needs.
Ask as many questions as you can, and always feel free to provide feedback during the massage about what you like and when you feel uncomfortable.
Just like in life, communication is key.
Follow your instincts
Do you feel comfortable?
Does your massage therapist respond to your requests?
Does he or she provide tips for aftercare?
A great massage therapist will have your best interests at heart before, during and after each session.
You'll know immediately if the therapist makes you feel comfortable, provides good information, gives a massage that addresses your pain and offers an all-around fantastic experience.
If you've done your homework first and then communicate your needs throughout, you'll find the perfect therapist in no time.
And given that the perfect massage experience is on the line, that won't be soon enough.