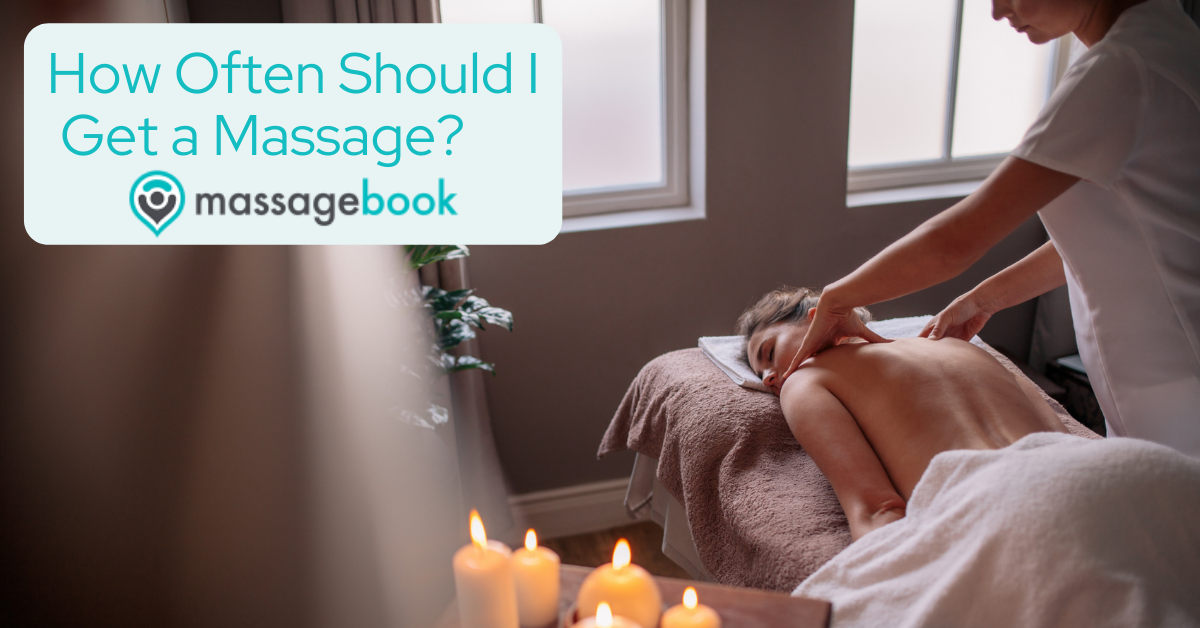 Updated June 24th, 2022
Massage therapy provides many health benefits. It helps us to release stress and to work out the kinks. When you ask yourself, "How often should I get a massage?" you actually need to ask a couple of questions. First, how do you feel? It's an excellent question to start with because of the proven health benefits and the release of stress that comes from getting a massage. Secondly, do you have any chronic pain? If so, then a massage may be the perfect solution!
You really should consider what type of massage you need as well. Each massage therapist has a different style, and you may want to schedule frequently using various massage techniques.
A massage is all about you and your needs, so it is essential to do a little homework and find the perfect fit for your needs. If money is a concern, try to schedule your massage appointments at least every other month, but once a month or week is even better. The release of stress and the long-term health benefits will give you a more fulfilling life.
Managing Pain
Massage is effective pain management for long-term sufferers and those who have developed problems recently. Chronic pain and other health ailments can impact every facet of your life. Before considering massage relief, you may have been living with unbearable pain with no resolve. It can be debilitating to keep rescheduling social visits or declining invitations because you cannot bear the pain of having to exert yourself for a few hours.
Massage helps address several conditions and provides a sense of relief in the process. It is in your best interest not to dismiss your pain. Pain can indicate serious health concerns, and massage can help prevent worsening problems. In addition, regular massage sessions can provide relief and benefit you in time to come.
Mental health problems such as stress, anxiety, and burnout can also negatively affect your physical body. Getting a massage can help reduce these effects and even help to calm you down. In addition, it can be a retreat from busy schedules and other challenging issues you may be facing.
One condition that is often overlooked is pregnancy. However, massage can support expectant mothers who may be experiencing slight pain as they approach their labor date. Back pain, neck pain, headaches, and anxiety can all accumulate during gestation. A professional massage therapist can assist in easing these ailments to provide relief during pregnancy.
Neck pain is another health matter that regular massage therapy can fix. It is becoming more prevalent today because of our overuse of mobile devices and poor posture. Dismissing your neck pain to aging or convincing yourself that a good night's rest can resolve it is not advisable. Massage can be highly beneficial in getting rid of your pain.
Personal Needs
When considering how often to get a massage, remember that it is all about you and your needs. What do you need now? Frequent massages will allow your muscles to soften and become more compliant, which will help with pain and stress. Once-a-week or once-a-month sessions will give you the most benefit for stress and muscle stiffness relief. You can stretch your visits out to once every other month, but that will give your muscles more time to revert to their old behaviors. Then you will have to start over with more frequent sessions to restore the relaxed state of the tissue.
If you have chronic pain, then more frequent massages may be needed. The health benefits of loosening the muscles and releasing the tension on the nerves are well documented. For those in chronic pain, it is a life saver. Remember to listen to your body; when you start to feel stiff and sore, it may be time for a massage. Since there are different types of massages to select from, you can find the proper technique to make you feel better.
Massage Techniques
There are many types of massage, so it will take some experimentation to find the right one for you. The most common massage style is Swedish, a relaxation-based massage that will be of the most immediate benefit. Deep tissue massage uses more firm pressure to release knots and stress deep in the muscles. You can schedule most types of therapies through your massage therapist. Still, it also may help to have several that you can visit, just in case you need something a little more specialized.
Consider reflexology and craniosacral therapy as well. Reflexology loosens stiff muscles and works the reflexes of the muscles to release tension and stress. Craniosacral therapy is more about the balance and rhythms of the body. For example, you will experience a light touch massage that focuses more on aligning the energy of the spinal column. As a result, many people report feeling refreshed and back in balance.
So, How Often Should I Get a Massage?
To answer the question directly, you should get a massage whenever you feel you need one. Schedule your massages less frequently if money is a concern, but don't wait too long. Regular once-a-week sessions are most advantageous. To ensure you get the treatment you need, consider visiting multiple massage therapists who offer different techniques. There are numerous massage techniques, each one providing a specific benefit to help you live a happier, healthier life.
If you're looking for highly-rated massage therapists near you, use MassageBook to take the guesswork out of your search. We make it easy to find and book the best massage and bodywork across the United States and Canada.