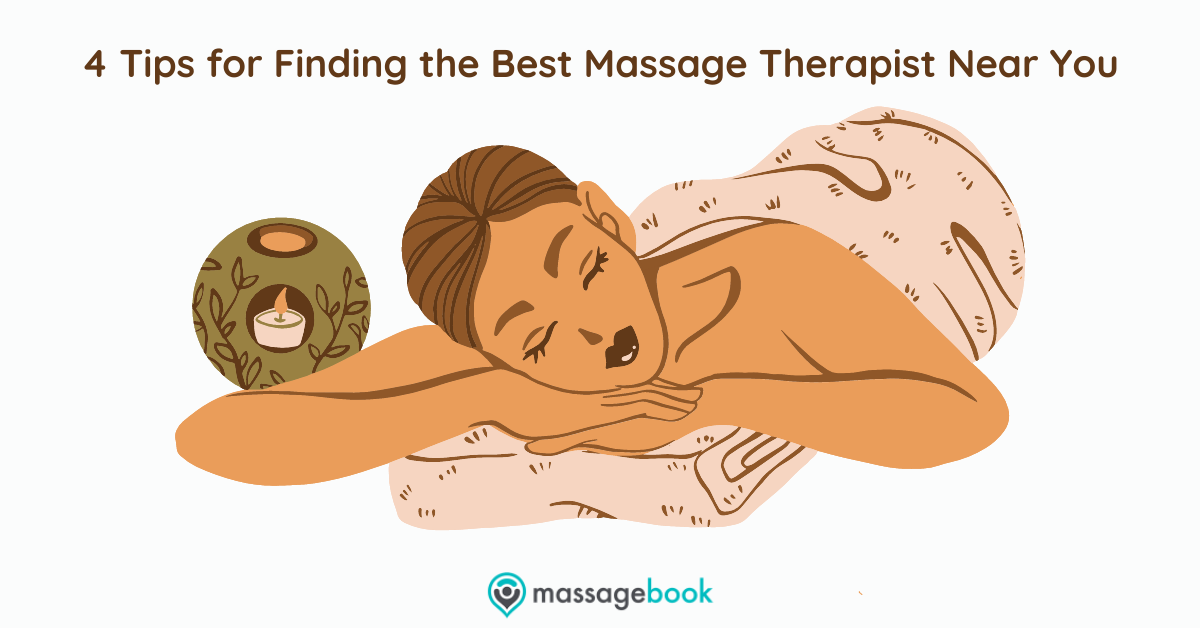 So you want to get a massage near you but don't know where to start looking in a market saturated with massage therapists? Luckily for you, we've compiled a list of tips that will outline factors of consideration, helping you move one step closer to receiving a massage and its lengthy list of benefits.
1. Determine Your Massage Goals and Preferences
The first step to getting a massage is determining your "why." Are you looking to relieve stress, soothe muscles, or minimize pain? You'll also want to give thought to your preferences—would you enjoy a firm massage or something lighter, and does it matter the gender of your massage therapist? If you have any injuries or tender points, you'll want to discuss that with your massage therapist to prevent further strain and discomfort.
Your massage should be a blissful and relaxing experience, and the more aware you are of what you do and don't want, the higher your chances of leaving feeling comfortable and fulfilled.
2. Identify What Type of Massage Suits Your Needs
Now that you've given your goals and preferences some thought, the next step is identifying the type of massage that will tend to your specific needs. Like therapists across any industry, massage therapists often have their specialties, and knowing which is best for you will help you align with the right person.
The most common types include:
Swedish Massage: A classic massage that incorporates various strokes, kneading, and pressure techniques. It energizes the body, stimulates nerve endings, and is excellent for pain relief.
Deep Tissue Massage: This type of massage uses deep pressure to eliminate pain and tension in the muscles and connective tissue. It's excellent for treating certain musculoskeletal disorders.
Hot Stone Massage:

 This approach uses heated stones to increase relaxation and reduce bodily tension and stress without subjecting the muscles to pressure.

Prenatal Massage: T

his type of massage caters to pregnant women who need stress relief and muscle relaxation. The method is similar to the Swedish massage, though specialists don't recommend it for women in their first trimester.

Reflexology: R

eflexology targets the ears, feet, and hands to ease stress and reset the body's energy state. It's a good massage alternative for clients who don't want a full-body massage.

Thai Massage: Y

oga and acupuncture go hand-in-hand during Thai massage, which releases muscle tension, boosts energy, and relieves stress. It's a more invasive form of massage, as the therapist will stretch and bend clients in different positions. 

Shiatsu Massage: T

his form of massage targets specific body areas to induce emotional and physical relaxation and help the body heal itself.

Aromatherapy Massage:

 The presence of aromatherapy essential oil blends stimulate emotional and physical wellness and occurs in conjunction with a traditional massage.

Trigger Point Massage: T

his massage targets "trigger point" areas of the body to release muscle tightness and tension. It requires deep pressure and is suitable for clients who have sustained injury and chronic pain.

Cupping: A 

massage therapist will place suction cups on various body areas to improve circulation, energy flow, and relaxation.
3. Seek Testimonials on Prospective Massage Therapists
After pinpointing the type of massage that will most benefit you, your next priority is to find a massage therapist. You can search online for testimonials that speak to the efficiency and professionalism of the massage therapists on your list. 
A professional therapist should have an online presence, and they get brownie points if they have an updated social media platform that highlights their brand and services. While you search, pay attention to how you feel when looking at their content, and be sure to see how they interact with clients and vice versa.
4. Request a Consultation
Once you've identified potential massage therapists in your area, don't be afraid to reach out and ask for a no-obligation consultation. This can be done over the phone or in-person, depending on party availabilities.  
Don't be afraid to voice your insecurities and concerns, or ask the therapist if they can tailor the experience to your preferences. A professional won't mind the questions and dialogue, as they'll want you to enjoy their treatment and feel looked after.
Conclusion
As mentioned above, a massage should be a relaxing and joyous experience, and following our suggested tips will help ensure that you get your money's worth. 
Suppose you need greater resources to find the right massage therapist. In that case, MassageBook is a platform that will provide you with thousands of highly qualified businesses, individuals, and massage specialties to filter through.
You can search for a local massage therapist, read their reviews, and check out prices and services. When you find the right fit, you can book an appointment and receive reminders without ever having to pick up the phone and call. It's never been easier to get a quality massage, and the team at MassageBook is here to help you find the perfect experience.
Book a Massage Therapist Near You Today