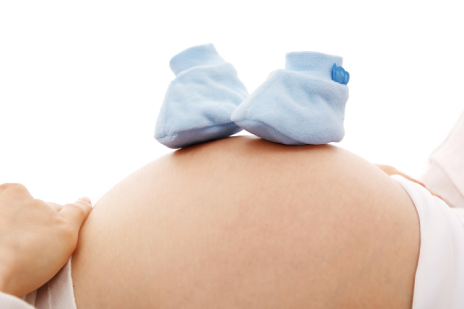 Lower back pain, leg cramps, swollen feet, heartburn. Pregnancy is a beautiful thing, but often it's anything but comfortable.
Thankfully, expectant mothers can help their bodies adjust with diet, massage, yoga, and even by taking a dip in the pool among other things.
Here we'll focus on one of the most effective tools you have as an expectant mom to make your journey a more pleasant experience.
From the first to third trimester, treating yourself to prenatal massages can have profound physical and psychological benefits.
Prenatal Massage During First Trimester:
There are many myths about getting a massage during your first trimester of pregnancy, and many women have been led to believe it isn't safe to get a massage during this period.
While we always suggest getting your doctor's advice before booking your prenatal massage, a massage therapist with prenatal massage experience and education will know how to ensure a safe, relaxing experience for you.
During the first trimester, your symptoms are likely less to do with body pain from carrying your growing baby and more a result of your body adjusting to the influx of powerful hormones. A prenatal massage can help by relieving some of the headaches, constipation, and even the morning sickness you've been experiencing during the early phase of your pregnancy.
The first trimester can be a stressful time for some mothers, especially if they haven't shared their big news with families and friends yet. Aside from the physical benefits of a massage, simply taking the time to relax deeply will do wonders for your overall well-being as you prepare to become a new mother!
Prenatal Massage  During Second Trimester:
Those early pregnancy symptoms are subsiding, and your belly is growing. You're looking like you just ate a large meal, and you're feeling your baby move around inside you. Many women find the second trimester of pregnancy to be easy going compared to the first and third trimesters.
However, there are still many reasons to begin (or continue) a routine of prenatal massage during the second trimester. As your belly grows, your posture will change as your center of gravity shifts, resulting in back pain. Prenatal massages can ease those tense back muscles as well as enhance your posture and bodily alignment.
You may also have begun to get out of breath more quickly, even from those frequent short jogs to and from the bathroom. By increasing relaxation and increasing blood flow (and therefore oxygenation of tisues), a prenatal massage will help ensure that your body's tissues remain healthy and loose.
While the second trimester tends to be easier for many expectant mothers, don't forget that your body and mind still benefit greatly from the healthy habits you've adopted.
Prenatal Massage  During Third Trimester:
It's the final countdown (cue the music).  As your due date approaches, those swollen feet and heartburn are kicking in. Not to mention, that baby is getting a bit heavy! You may also find that the anticipation of delivery has increased your stress levels.
This means it is the perfect time for you to book yourself a massage.
You'll find that regular prenatal massages during this trimester can enhance your sleep, reduce pain and swelling, and generally assist in lowering stress as the delivery day draws near. Third trimester massages can even help prepare your pelvic muscles for the birthing process. Experienced pregnancy massage therapists will have either have a special table with a cut-out for the belly, or special pillows and pads to provide for comfortable positioning of their clients, making even face down positions comfortable.
Your back will love more attention in the third trimester!
Some women find deep tissue massages especially helpful during the final stretch of pregnancy, though it's always best to consult with your obstetrician and massage therapist beforehand.
From the early stages of your pregnancy to the days before delivery, prenatal massages offer numerous benefits both for your body and mind.
How to find a massage therapist who specializes in pregnancy massage?
To find highly rated massage therapists who specialize in pregnancy massage, the nationwide MassageBook directory is a wonderful tool that cuts through the clutter. Use the technique filtering offered on the search page to identify qualified pregnancy massage professionals near you and to book your next massage.