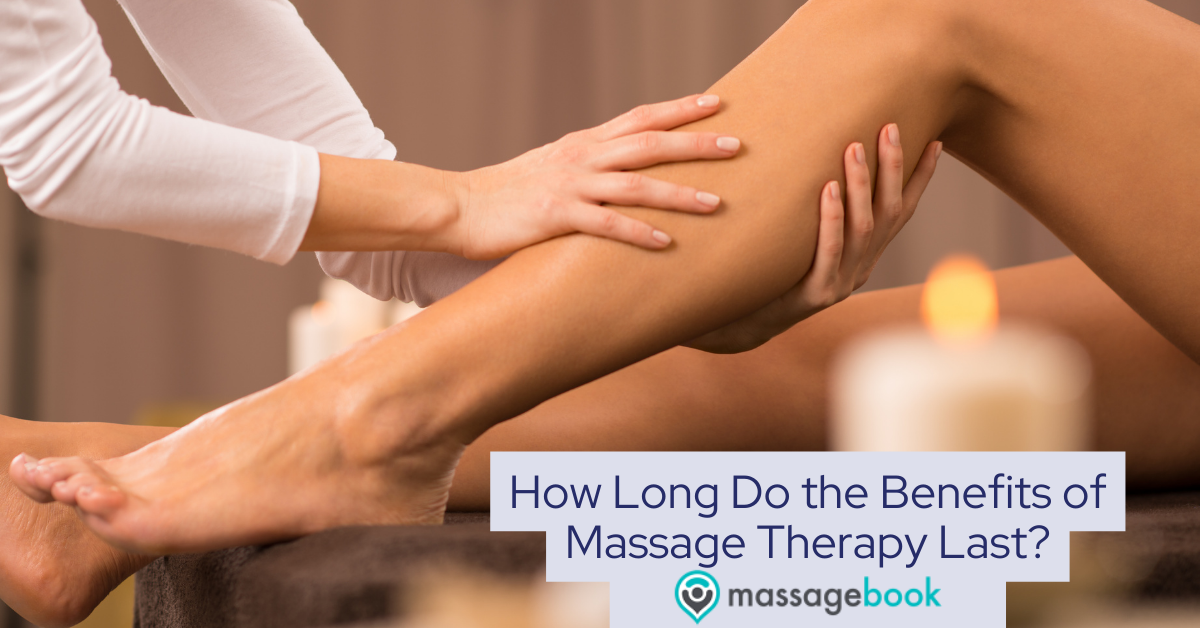 Massage therapy benefits include feeling much better after the session; however, this feeling of calmness can go away quickly if proper care isn't taken to make the benefits last as long as possible. Luckily, with a few simple tricks, anyone can feel like they've just visited their massage therapist. Read on to learn about the benefits of massage therapy, how long benefits last and how to make benefits last longer.
What are the Benefits of Massage Therapy?
More and more medical professionals recommend massage therapy for their patients due to the variety of benefits it can offer. Most people will experience:
Lowered heart rate

Lowered blood pressure

Reduced pain, soreness, and tension

Reduced stress

Improved energy and alertness

Increased relaxation
Scientists have set out to see if these effects are measurable as well, with studies finding physical and mental improvement for those with:
As researchers continue to study the benefits of massage therapy, one can expect the above list to grow; however, anyone can experience the increased relaxation and destressing that comes with massage therapy.
How Long Do Massage Therapy Benefits Last and What Factors Play Into It?
The benefits of massage therapy are vast, but far too many people feel like they need another massage in a short amount of time. To ensure that their massage therapy benefits last as long as possible, people need to examine their lifestyle and the type of massage received.
Lifestyle
Everyone has heard medical professionals talk about the dangers of stress; however, it can feel impossible to avoid it in our world, which seemingly runs on pressure. While it might seem too challenging to accomplish, it's integral for people to find ways to destress their lives. Those with stressful lives are more likely to experience headaches, increased heart rate, and muscle tension (as well as an early death). When constantly stressed, the body undoes all the benefits it received from massage therapy, leading to people needing to go in more frequently for a massage. With a calmer lifestyle, the body won't fall into the fight-or-flight pattern caused by stress, meaning the benefits of massage therapy will last much longer.
The Type of Massage You Get
There are numerous massage techniques to choose from, and it can feel overwhelming when deciding which massage is the right one for your body. These seven massage techniques are among the most popular:
Swedish Massage: This is the classic type of massage most people think of when they hear "massage." It's gentle and calming, making it perfect for those looking to try a massage for the first time.
Deep Tissue Massage: A deep tissue massage can alleviate knots, muscle tightness, and general pain. This type of massage is excellent for those with injuries, chronic pain, and frequent muscle tightness.
Trigger Point Therapy: Trigger point therapy focuses on increasing blood flow and releasing area tension around tight spots in the muscle tissue. This massage is best for those with chronic pain.
Myofascial Release: The body's fascia contains a web of connective tissue that allows the muscles to move freely. Myofascial massage works by stretching the muscles to relieve tension and tightness, especially in the neck, back and shoulders.
Sports Massage: Like trigger point massage, sports massage focuses on specific body parts. A massage therapist will address common problem areas in athletes to give them relief and help them perform better.
Lymphatic Massage: Lymphatic fluid keeps the body's fluid levels up and removes waste. This massage increases the fluid's flow which can help with inflammation, arthritis, or those who've had lymph nodes removed.
Prenatal Massage: Pregnancy is tough on the body. A prenatal massage reduces swelling and takes the pressure off the hips to create a more relaxing pregnancy experience.
How to Make Massage Therapy Benefits Last Longer
Prioritize Post-Massage Relaxation
Relaxing after a massage is critical. Now is not the time to work out, drink a lot of coffee or jump back into work. People who do that are simply erasing all the work the massage therapist did. Instead, look to take an Epsom salt bath and ice sore areas.
Get Regular Massages
It may seem like a luxury, but getting regular massages will alleviate old issues and stop new ones from forming. In addition, traditional massages help relieve pain, enhance mental clarity, reduce stress, and detox the body.
Adopt Stress-Free Living Habits
While most people can't eradicate stress completely, they can look for ways to reduce it. Whether it's major changes like cutting off toxic relationships or minor changes like keeping the home clean, reducing stress will make massage therapy benefits last significantly longer.
Final Thoughts
The proper massage can do wonders for the human body when managing chronic pain, headaches, or arthritis. From choosing the correct massage for your needs to following a relaxing post-massage ritual of Epsom salts and icing sore areas, making massage therapy benefits last longer can easily be achieved.
Book Your Next Massage With MassageBook
Ready to get yourself on a massage table? MassageBook makes it easy to find thousands of professional massage therapists all across the United States and Canada. You can even start your massage journey right now. Select your area, read reviews and book your first appointment all in a matter of minutes. We'll send you appointment reminders as a courtesy so you never need to worry about missing an appointment again. So prioritize your health, take the path towards total body wellness, and book a massage therapist with MassageBook today!