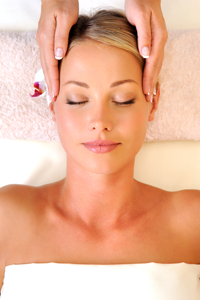 Search Massage Therapists in Your Area
While there are fundamentally two types of spa clients – those who frequent a spa several times a month, and those who enjoy the benefits of a spa experience once in a blue moon for a special occasion, the etiquette expected of spa visitors is the same for both.  Whether you're a common fixture at your favorite spa or are about to embark on your first experience at one, keeping these pointers in mind will ensure a wonderful, welcoming, and pleasant experience for both you and the professionals working at the spa.
The early bird gets the worm.
As with any scheduled appointment at any professional business, it's always favorable to arrive 15 minutes ahead of time.  If you're a first-time visitor, you might need to fill out some paperwork; if you're a regular, you'll have time for some coffee, tea, water, fruit, or whatever else the spa may offer.  If you arrive late, you'll be rushed to get physically ready for the spa treatment, you'll knock all the other scheduled appointments out of sync, your time might be (legitimately) cut short, and you'll be remembered for being late!  Don't be late! If it is truly unavoidable, be kind and courteous enough to call!
Don't be rushed.
If you're considering embracing the services at your resort's or hotel's upscale spa, you may want to allow yourself more time to be accommodated. These spas are normally packed with appointments.  If they welcome walk-ins from the resort's guests, there may be a wait if it is busy; be patient. No one wants to tend to the needs of a cranky, rude, or pushy client.  If it's your first-time at a spa, you might get a tour of the services, products, and amenities offered.  Take the time to explore everything the spa has to offer; if you arrive early for your appointment,  you'll be able to do this without feeling rushed or stressed to get through it quickly.
Ask questions.
Feel free to inquire about exactly what your experience includes. Personalize your experience based on what the spa offers. Variations of amenities are vast in the spa world, arriving early ensures you'll be able to select the services perfect for you.
Disconnect and be in the moment.
Undoubtedly  your days are filled with people, projects, and a never-ending "to do" list vying for your time and attention. Turn off that phone! Take time at the spa to put away outside distractions and truly embrace the experience inside the spa. It's impossible to be relaxed if you are still wrapped up in the happenings of the day. All throughout life you are tuned in to your smartphone or some other gizmo or gadget. Tune out to the electronics and tune in to yourself and the moment.
Soak. Shower. Massage. A time for everything.
Feeling incredibly relaxed after a dip in the spa's hot tub? Great! Now be sure to take a shower before your spa treatment. If you don't, chemicals from a pool or hot tub can be massaged into your skin.
Stay as Comfortable as You'd Like.
If you're a bit reserved about being massaged while sporting just towel, that's okay. Throughout the massage the only part of your body that will be exposed is the part being worked on. The rest will be covered with sheets or towels. Most spa goers get entirely nude. Some will leave their underwear on, which in some instances can limit your treatment abilities. There are treatments that happen while clothed, such as Reiki and Thai massages. A body treatment should always come before a facial treatment. Consider this when scheduling dual appointments.
Personalize Your Experience.
Generally, a spa will go to the utmost measure to cater to each guest's needs and desires. Be upfront about your preferences. This can range from being treated by a female or male therapist, to how many towels you'd like in the sauna. For those of you worried about your personal boundaries, all therapists are trained with proper techniques to be non-invasive. Don't be shy about giving your therapist direction during your massage. Let him/her know if you'd like less or more pressure, or a table warmer on or off. Maybe you would like the music a bit softer. The professionals at a spa are trained, skilled, and experienced to create an environment and an experience that is relaxing and comfortable for you. Don't hesitate to make requests.
Hold that thought.
Whether you are in the mood to talk and carry on a conversation with your massage therapist or not, it's totally up to you. Normally, a great therapist will feel out your mood and bend to your lead. In the event your therapist will not stop talking and you'd just like to rest, let him/her know in a polite manner that you'd like to rest for a bit. Be sure to use a slight spa whisper when speaking inside of the spa.
Ending Your Treatment.
Your glorifying, tingling, muscle-warming treatment has come to an end. At this point your therapist will normally wait outside the door for you to get dressed. There is no great rush; however, most spas are busy around the clock ~ so be considerate.
Tip Your Therapist.
Depending on the establishment, this can be done in different ways. Some larger resort-style establishments will often automatically tack on a standard 15-20% gratuity to your overall spa fees. Others will leave this responsibility up to you.
In The Event You Must Cancel.
The rule of thumb for cancelling without incurring any cancellation fee is normally twenty-four hours. Whether or not the spa charges a cancellation fee (or takes your credit card number ahead of time to reserve your appointment) is something you can inquire about before scheduling your appointment.
Displaying proper spa etiquette will not only make your experience enjoyable for yourself and the staff, but also for other guests at the facility. It's easy to become that client everyone looks forward to seeing when you're polite and considerate!
Search Massage Therapists in Your Area