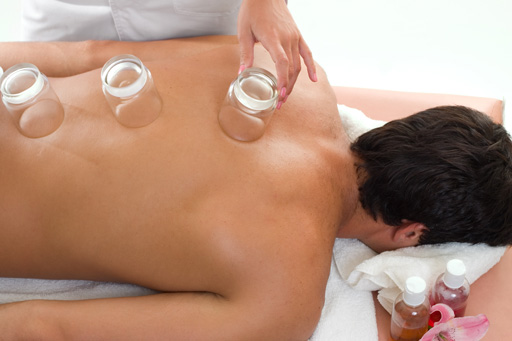 Like the rest of the world, I've been watching all the excitement down in Rio, but things got a little personal when Michael Phelps stepped onto the scene covered with curious round bruises.
My phone started buzzing, as I received text after text…
What are those round marks on the bodies of some athletes? Is Phelps hurt? Is that going to prevent him from winning gold medals?
No, it's not a result of injuries. The circles are from a form of therapy called cupping. In fact, I reassured them, it can be very beneficial.
"So, how in the world does cupping work?"
The process uses gentle suction and pumping to pull skin and connective tissue away from the body and is used to increase flexibility, promote bloodflow, relieve pain, and reduce swelling from muscles, deep tissues, or points of injury.
Unlike traditional massage, which exerts pressure on muscles, cupping works the opposite way – decompressing muscles by pulling them upward toward the cup.
"It looks painful!"
Although it can leave a mark after the treatment, the treatment itself is not painful. You'll receive a slight tightness or pinching feeling while the cups are placed on the skin, but often, it is a relaxing sensation.
Cupping therapy, like acupuncture, follows the lines of the meridians on your back to help align and relax qi (life energy).
"Is this the new trend for professional athletes?"
The short answer, is no. Cupping has been around for a long time. I'm talking ancient. This therapy actually dates back to 300 AD. In fact, this technique was recommended by Hippocrates, whom many consider the Father of Modern Medicine.
"Is cupping only for athletes?"
Although cupping can be very beneficial for athletes, you don't have to be an athlete to benefit from this ancient therapy.
While cupping alone won't turn you into an Olympian, it can treat a number of different ailments, including:
Clearing chest congestion or asthma symptoms
Relieving muscle pain or soreness
Helping relieve lymphatic issues
Promoting more rapid recovery after workouts
Reducing cellulite, reducing arthritis symptoms
Decreasing pain and scar tissue associated with burns or amputation
As always, consult with your doctor and your bodywork professional before you try cupping therapy to ensure it is right for your body. For example, people who bleed easily or have skin ulcers should avoid cupping.
Looking for a bodywork professional who specializes in cupping? Use MassageBook's massage and cupping therapist directory to find a cupping specialist near you!